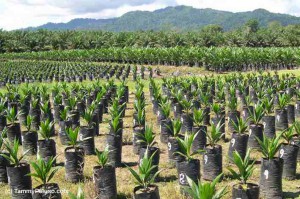 OMP Nursery is a specialized database application for the management and optimization of single- or double-stage oil palm nurseries. The main focus of the program is to give nursery managers the tools to maintain a clear picture of seedling stocks at all stages of their development, to schedule and monitor nursery tasks and to plan for future planting requirements. OMP Nursery has been successfully used for over 5 years in the management of several commercial oil palm nursery operations with output of several hundred thousand seedlings a year.
Site-specific customization
As in all OMP applications, OMP Nursery supports the adjustment of all system settings to match the specifics of your individual nursery operation. As such, you can specify the full nursery layout including pre-nursery and main nursery sections and the capacities of all individual plots. Furthermore, it is possible to enter your preferred seed providers, nursery supervisor staff, fertilizer and culling causes. Customizable nursery tasks and task lists can be maintained to make it easy to keep track of your work schedules and tasks that need to be carried out before or after planting. OMP Nursery can be used either as a standalone application or linked to an OMP Plantation database. In the second case, a list of blocks to which seedlings may be dispatched is automatically imported, including the number of seedlings required per block.
Seedling stock tracking
With OMP Nursery, you can document and track your seedling stocks throughout the entire production process. Seed orders can be recorded in full detail, with the possibility to subdivide each order into multiple batches and to order multiple different progenies per batch. When a batch is received, simple data entry wizards allow you to record how many seeds of each progeny are planted in which plot of the nursery. At any point after initial planting, seedlings may be moved to different plots or to the main nursery. Furthermore, entering seedling audit results enables you to keep track of the number of seedlings lost due to culling or natural causes. When your seedlings reach an age suitable for planting, seedling sales to other companies or dispatch of seedlings for planting in the field can be easily recorded.
At any point, a selection of data analysis forms and reports gives you an overview of the seedling stocks in the various stages of development, organized by nursery, order or batch. As usual in OMP, powerful filtering features are available to help you focus on exactly the information you need.
Fertilizers and vegetative growth
Besides simple seedling numbers, OMP Nursery can also be used to record survey results for vegetative growth parameters such as seedling height or petiole cross section for each progeny. The development of these growth parameters over time can be viewed in chart form for each seedling batch.
OMP Nursery supports fertilizer and crop residue recording on a progeny-by-progeny basis. As in OMP Plantation, monthly recommended and applied amounts are recorded separately for each fertilizer or crop residue type. A selection of data analysis forms and reports allow you to view and analyze this fertilizer data on nursery, order, batch or progeny levels.
Task scenarios
One of the most important jobs for a nursery manager is to ensure that necessary tasks such as polybag filling or fertilizer application are carried out on time, to avoid damaging the fragile oil palm seedlings. To assist with this process, the OMP Nursery application allows you to define task scenarios with lists of tasks to be carried out as a function of the number of days before or after planting. Once a projected planting date for a seedling batch is entered, the program then automatically calculates the dates when each task must be carried out and displays any delays that may have occurred. For each task, managers can furthermore record budgeted and actual costs for materials or labor.