Agrisoft Systems' Oil Palm Management Program (OMP) is the most complete and powerful software solution for precision oil palm agronomy on the market. It consists of a family of database applications focusing on different aspects of oil palm agronomy, with comprehensive storage of historical data, powerful filtering and data analysis tools, easy-to-use built-in reports and charts and a potent thematic mapping application in OMP-GIS.
All OMP applications are built on the same set of basic principles:
Power: OMP is designed to provide detailed information on all manner of agronomic parameters, allowing you to drill down and understand the root causes affecting the performance of each block in your plantation, or each plot in your nursery. This is combined with powerful filtering capabilities, data analysis forms and reports and thematic maps that ensure that you get a clear overall picture and do not get lost in a flood of details.
Flexibility: we recognize that no two plantation environments are exactly the same, and that the key to achieving sustainable high yields lies in site-specific precision agriculture. OMP programs are highly customizable and can be adjusted to fit a wide range of plantation environments.
Simplicity: OMP programs are simple to install, use and maintain, with minimal system infrastructure requirements, self-explanatory data entry forms and wizards, and hundreds of reports, charts and maps available at the click of a mouse.
OMP Plantation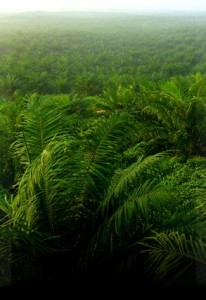 OMP Plantation is the OMP solution for oil palm estate management and agronomy. It is itself composed of a main application called OMP-DBMS (OMP Database Management System), supplemented with a number of add-in programs centering on specific aspects such as fertilizer recommendations, black bunch count crop forecasts, crop budgeting or pesticide use.
The main aim of OMP Plantation is to provide the necessary tools for the implementation of large-scale best management practices and help improve yields through detailed yield gap investigation and drill-down analysis. Furthermore, OMP Plantation increases transparency and accountability, improves the information flow through all levels of the company management and provides a crucial repository for agronomic data for certification procedures.
Topics covered in OMP Plantation include
FFB production and yield, yield potential and land capability, yield gap analysis
Harvesting, harvest round length control, harvest labor usage
Generating cost-effective fertilizer recommendations
Fertilizer application and control vs recommendations
Leaf and soil analysis, nutrient levels, visual deficiency symptoms
Climate data
Field upkeep, pruning and canopy management, replanting
Palm census and vegetative growth parameters
Pests and diseases, pest control, pesticide and herbicide application
Crop loss audit
4-month crop forecast
Yearly crop budgets based on solid historical statistics
Point-level field data collection with automatic aggregation
Thematic GIS maps at block or point level
Further information can be found on the OMP Plantation product page, the OMP-GIS product page, in our OMP leaflet or the OMP-GIS leaflet.
OMP Nursery
Manage all aspects of single- or double-stage oil palm nurseries with OMP Nursery, the specialized nursery management database application from Agrisoft Systems. OMP Nursery allows you to keep track of seedling numbers through all stages of the nursery on order, batch or progeny level. Easy data entry wizards and data analysis forms and reports allow you to record and view information on seedling movements between plots, monthly seed audits, culling and loss rates, fertilizer application and vegetative growth as well as sale of seedlings or dispatch of seedlings to the field.
OMP Seed Production
OMP Seed Production is Agrisoft Systems' software application for management of commercial oil palm seed production operations. With OMP Seed Production, oil palm breeders can document the precise origin of pollen stocks and female flower isolations, schedule pollination and harvest dates for individual bunches and keep track of whether the scheduled deadlines were met. Post-harvesting, the program provides an overview of seed numbers in all stages of the production process, from cold storage via hot room and germination to eventual sale and shipping.
OMP Tissue Culture
Clonal seedling production in tissue culture laboratories is a production method of growing importance for oil palm planting material. OMP Tissue Culture is a specialized software companion for the management of tissue culture laboratories. Starting by recording the origin of tissue samples, breeders can track sample transfers from one culture medium to the next with full recording of all applied treatments at every step. Powerful data analysis forms give insights into loss rates, contamination and multiplication rates up to eventual planting of the resultant oil palm seedlings in the nursery and plantation.
OMP Ten Year Crop Budget
A reasonable estimate of future harvests is crucial in order to make long-term business decisions such as construction of new milling or shipping facilities, long-term sales agreements and so on. OMP Ten Year Crop Budget (OMP-TYCB) is a database tool to provide exactly these long term production estimates. Based on the current age profile of your plantation and information on the yield profile by tree age for the different plantings in the estate, the program generates a 10 year crop budget automatically taking into account the aging process of the palms and the replanting process when certain plantation areas reach the prescribed age. For more details see the product page or read a featured article on the OMP Ten Year Crop Budget.
Licensing and pricing
To use any of the OMP programs, users must purchase a site license for that program from Agrisoft Systems. Site licenses are always associated with a given estate, nursery or seed production unit, and cannot be used to manage e.g. a different estate in the same company group. OMP site licenses carry no time limitation, and there is no limit to the number of computers on which OMP may be installed.
License fees for OMP-AMIS, OMP-GIS and OMP-TYCB are calculated based on a per hectare fee and the area that is to be managed with the OMP program. OMP Nursery, OMP Seed Production and OMP Tissue Culture on the other hand carry a fixed price per laboratory or nursery. For detailed information and the latest prices please contact Agrisoft Systems.